All carefully selected to harmonise with Mother Earth and yourself.
This state of the art machine from Japan elevates K's head spa experience. It turns chlorine free purest water into a warm microscopic mist with different modes.
During our "Clarity & Serenity", the warm open mist eases you.  At the "Scalp & Hair Rejuvenation", your scalp will be deeply cleansed with Scalp Care mode which opens your pores . The Hair Care mode enables our vegan hair treatment products to penetrate deep into your hair for a longer-lasting effect. We use the Colour mode to enhance colouring of the henna and minimalise fading.
Pure Botanical Shampoo, Conditioner & Hair Treatment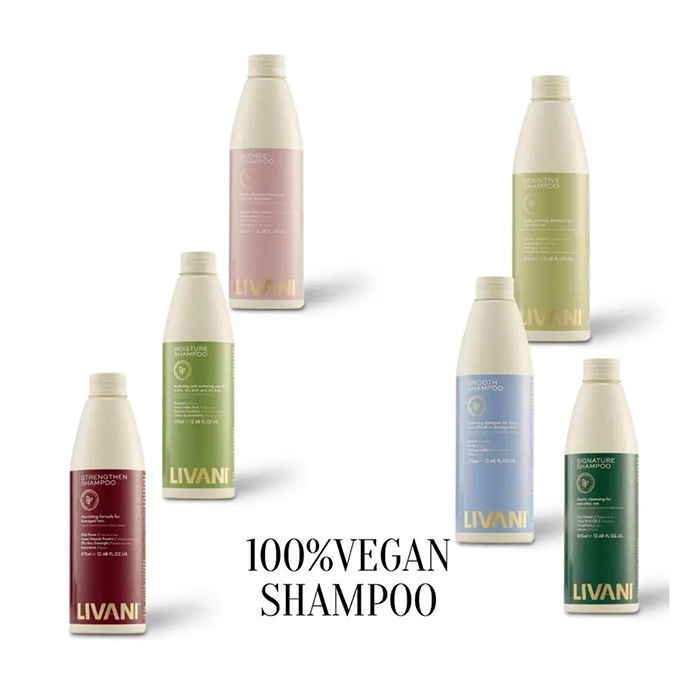 After much research, we encountered Livani – 100% Vegan, Australian made, and beautifully crafted products with sustainability in mind. (They have even chosen aluminium for their bottle packaging, as it can be repurposed and recycled infinitely.)
We are proud of using their shampoo and conditioner in our "Scalp & Hair Rejuvenation" menu, as these highest quality pure botanical products actually work ! They leave your hair feeling revitalised, deeply nourished and in a pure sense of luxury.
Their collection offers an exclusive blend of the finest botanical cleansers. Using gentle formulations combined with natural actives, they restore both shine and manageability to the hair while improving the overall condition and health of the scalp.
Prior to your treatment, we select from our range of Signature, Moisture, Smooth, Strengthen, Blonde and Sensitive to suit your current condition.
Moringa Shampoo & Conditioner
For "Clarity & Serenity", we use locally grown Moringa shampoo & conditioner.
Moringa is known as the super-nutrient tree which contains 92 nutrients, 46 antioxidants, 9 essential amino acids, 18 amino acids and 36 anti-inflammatory agents. In other words, it is immensely rich in essential vitamins and minerals to stimulate hair growth and scalp health.
These Cairns-made hair products are carefully crafted so as not to lose their abundant nutrients. For instance , one of the ingredients, Moringa seed oil, is cold pressed unlike cheap solvent extracted ones so that users can benefit from its high nourishing, moisturising and antioxidant power, perfect for taking care of the beauty of your scalp and hair. 
Both the shampoo and conditioner are made with Moringa, Argon and lemongrass (refreshing aroma) and are paraben and sulphate free.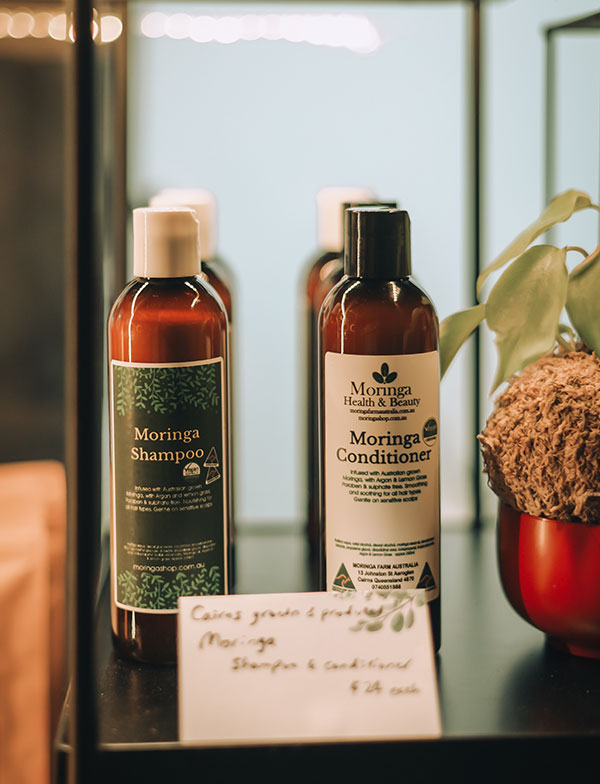 Henna – Grey Hair Dye & Conditioning
Henna is a natural grey/light hair dye free from chemicals, that is widely used around the world for its numerous benefits such as:  improves hair growth / reduces hair loss / prevents hair breakage / makes hair lustrous and shiny / softens hair / improves elasticity / rejuvenates dull, damaged, and dry hair / extracts hair residue (pollution, styling products, etc.) / detoxes the scalp and treats dandruff. (See more details >>)
We have implemented henna application into our head spa, as we believe in those immense benefits from owner K's actual experience for over 5 years.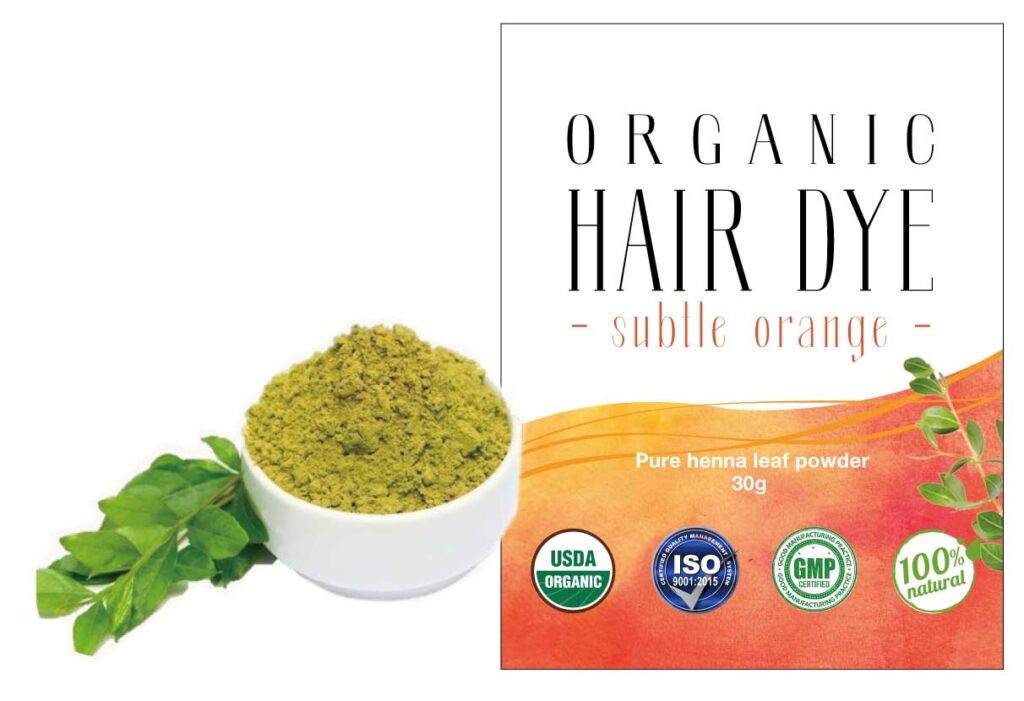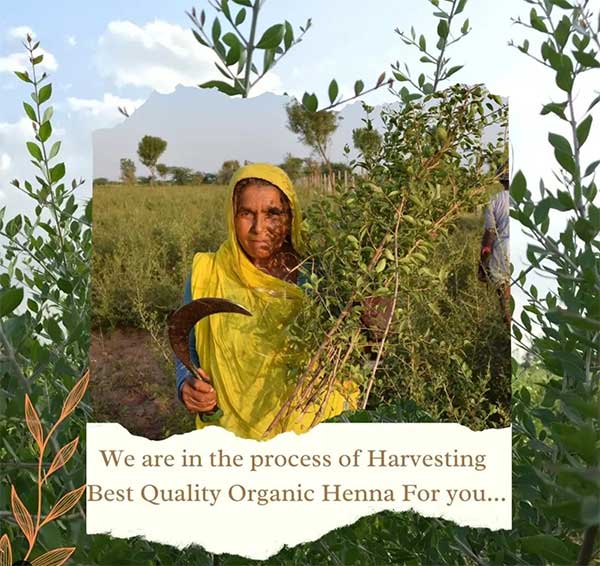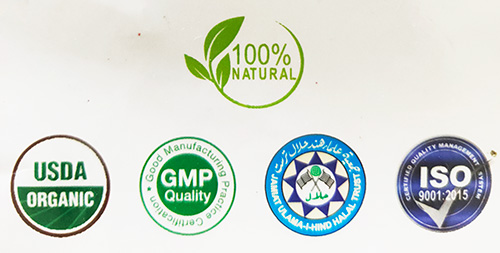 Not all the same. K's carefully sourced the highest quality henna for you to make the most of its benefits.
In most cases, non-desired results come from poor quality henna. (Unfortunately, the packages say 'organic' or 'chemical-free' but not all really are). So, what's the differences between Good quality henna and Poor quality henna ?
First of all, good quality henna powder is genuinely made from leaves while some henna products contain other part of the plants or soil and even chemical. Then, it is completely dependent on harvesting time, proper storage, and processing of the raw material.
The company K's import the henna and other Ayurvedic herbal products  from, primarily focus on quality. They purchase the best quality raw material instead of powder, as they can control and oversee the quality that way, at the best time as per yearly consumption, and filter any extraneous sand during the cleaning process, then store it in their warehouse in proper condition. They even conduct the lawsone (the property to stain hair) content testing of natural henna once a year to maintain the same quality & other parameter percentages (like purity, moisture etc.) in their in-house laboratory throughout the year.
Finally, their henna is vacuum sealed and packed in an alloy-lined bag (sheltering it from sunlight) to maintain freshness as much as possible.
Ayurvedic Herbal Scalp Mask
Ayurveda in Sanskrit means "Life" and "Science". It holds 5000 years of history and wisdom in India for its mind, body and spirit wellbeing benefits.
K's has worked with the team in India to produce 2 original Scalp Masks under the supervision of an Ayurvedic doctor.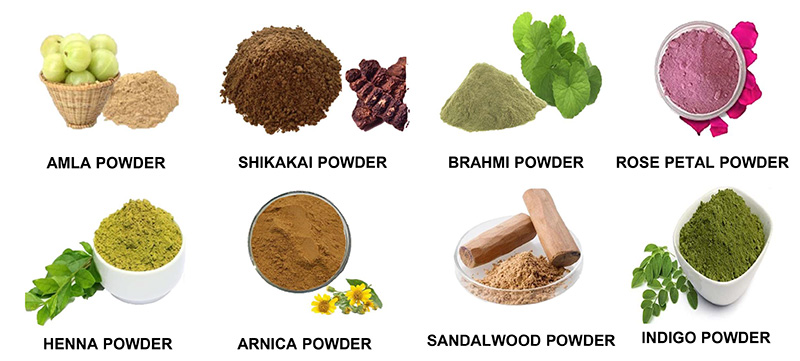 Scalp Nurturing Mask
Selected Ayurvedic herbs gently exfoliate impurities and nourish your scalp. This was designed for overall scalp health.
Oily Scalp Conditioning Mask
Like a mud mask for the scalp and hair. It works as a mild cleanser and balancer of sebum (scalp oil) and bacteria.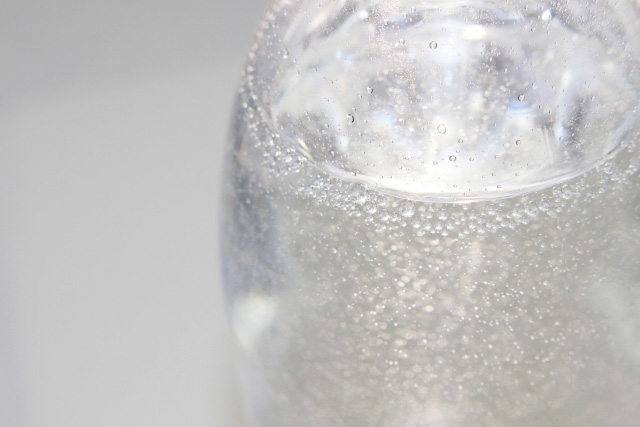 Soda Water has been quite a popular beauty ingredient in Japan for some time. Its carbonated properties pull out oil stains, excess sebum (scalp oils), dirt, dead skin cells and product residues in a gentle way. The soda water has a pH of 5.5, which is also the pH of your skin, so it won't irritate your scalp . In addition, the carbonated water dilates blood vessels and the arterial end of capillaries, which increases blood flow and circulation. This promotes oxygen and nutrient delivery to the hair roots.
At K's, we use soda gel for deep cleansing of the scalp. Regardless of knowing the above effects, our clients simply enjoy the nice cool feel of the gel when we apply it (because we are in the tropics !) The sparkling sound and the feel of the warm carbonated water at the beginning of our wet procedure also brings tranquility to our clients.
Naturally formed 2.8 billion years ago in borders between Finland and Russia. It stays warm or cold for a long time (2.5 times more heat retention of other stones used for hot stone massage). The heating effect of these stone's far-infrared rays enables warmth to penetrate deeper into the skin (said to be 4cm from muscle surface) and helps in boosting the immune system. Our soapstone massage approaches eyes, shoulder & neck. For the eyes, we place hot & cold stones alternately (like sauna + ice bath effect) to promote blood flow and releasing tension especially caused by watching computer or phone screens. The gentle touch from this part of Mother Earth is so soothing and relaxing !
* Carelian Soapstone massage can be added-on to our "Clarity & Serenity" menu or it comes at every visit if you are a K's member.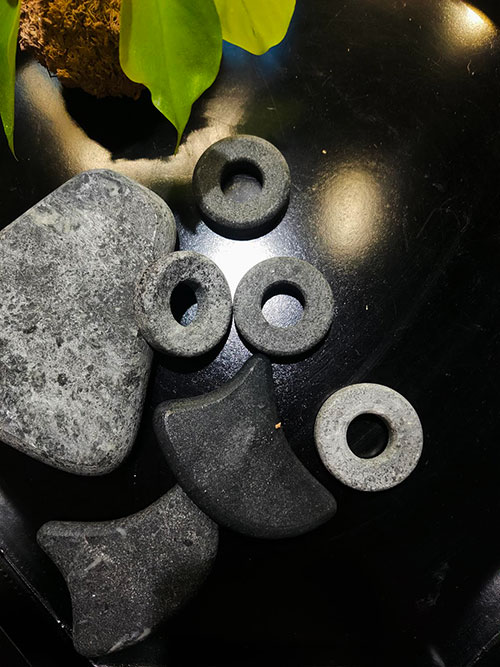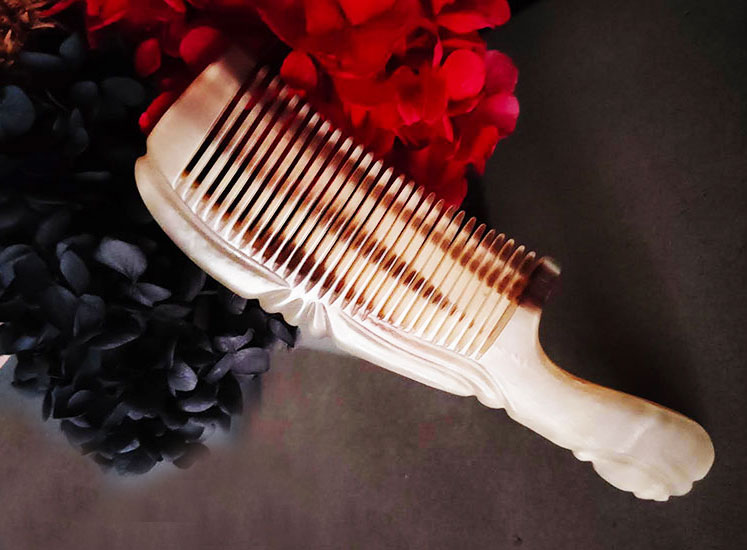 The horn comb has its roots in the legacy of Roman, Medieval, Viking and Alaskan traditions, where everyday objects that are now made of plastic, were made from bone and horn. 
Our comb was produced by the fifth generation heritage of a local comb-maker. The unique properties of keratin in animal horn naturally restore silkiness, shine, brilliance and overall health to your hair.