What K's Head Spa Offers.
All experiences include:
Complementary drink of your choice and blow dry
Note:
For the first visit, we ask that you to arrive 5 min prior to your appointment to complete our consultation form.
There is no need to get changed into a spa gown.  It is a fuss free escape right in the middle of the Cairns city.  
Prices include GST (10%)
Gentlemen's bookings are available on Mondays & Thursdays.
A journey to restore healthy, beautiful and strong hair from the inside out.
$121
Your scalp will be deeply cleansed with soda gel tailored to each individual, promoting blood circulation & removing excess skin cells and oil for healthy hair growth. Then, you will enjoy a heavenly head massage and soothing combing with pure botanical shampoo & conditioner, selected to suit your current scalp & hair conditions. While your hair is nurtured, indulge yourself in shiatsu (Japanese traditional acupressure massage) on your head . The journey is completed with a head massage with specially blended scalp nourishing oil as well as a shoulder & neck massage.
Duration: 60min (Please allow extra time for long hair)
Recommended if you would like to improve conditions such as:
Scalp: dandruff / itchiness / redness / rash / stinging / aging odor / oily
Hair: hair loss / dull hair / UV damage / flat hair / breakage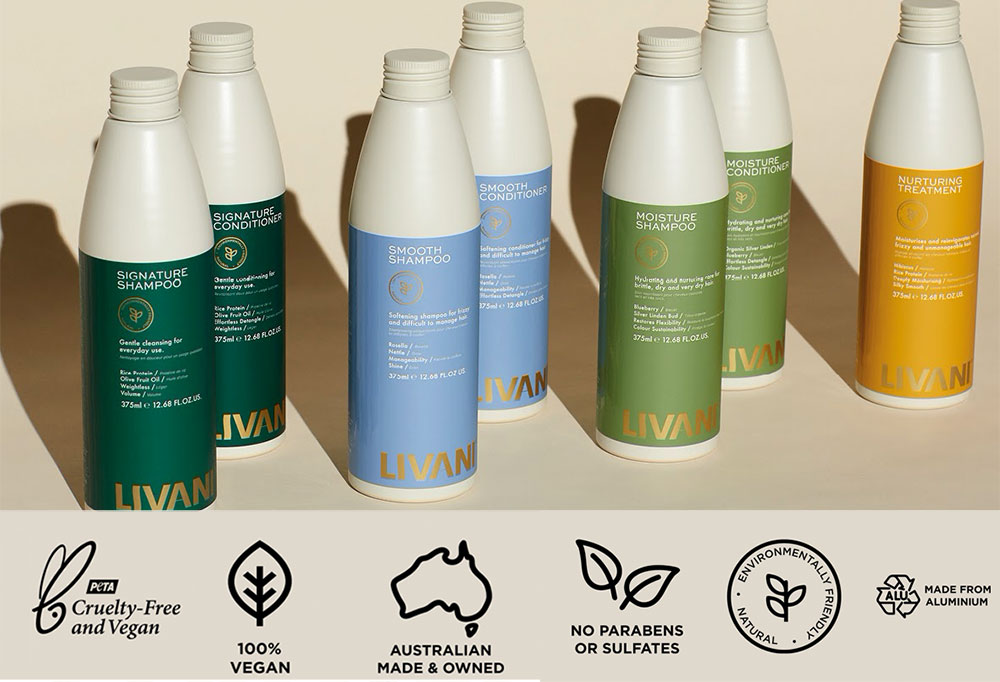 After research & tests for products to suit our philosophies – harmonise & respect to the mother earth and ourself- we encountered Livani, 100% Vegan, Australian made, and beautifully crafted products with sustainability in mind. (They even have chosen aluminium for the bottle packaging, as it can be repurposed and recycled infinitely.)
We are proud of using their shampoo, conditioner in all our treatments, as these highest quality pure botanical products actually work ! They leave your hair feeling revitalised, deeply nourished and in a pure sense of luxury.
Their collection of shampoo, conditioner and treatments offer an exclusive blend of the finest botanical cleansers. Using gentle formulations combined with natural actives, they restore both shine and manageability to the hair while improving the overall condition and health of the scalp.
Prior to the treatment, we select the range from  Signature, Moisture, Smooth, Strengthen, Blonde and Sensitive to suit your current condition.